LOST!!! March 2007
My Boxer recently ran away. I recently moved and we were only in the home about a week when she got out. Her name is Bailey, she is 10-11 months old & 55-60 lbs. She has her dew claws and is not fixed yet. She is potty trained, sits, shakes and was on the way to becoming very well trained. She was last seen in a community called Eastvale near Corona near cross streets Archibald and Limonite. She was not microchipped yet. Please contact me if you know her where abouts. Thanks, Cliff cliffdougherty@gmail.com or my cell 626-390-1743.
LOST!!! January 13th 2007
My Boxer escaped his collar & my back yard! He was last seen near Beach & Orange. His name is Rex he is a 2 year old unaltered male his tail and ears are not cropped, he has a micro chip in neck. I look for him every day he is super friendly his colors are tan with white chest little white on feet.
If found please call Kristin at 714-995-1799 or 714-290-6002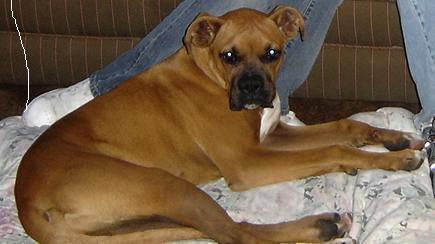 LOST!!! November 21st 2006
A 6 months old, Fawn Colored female Boxer. Lots for white on her chest, A white patch on the back of her neck and her tail Is docked. She was lost in the the city of South Gate. One block from the cities of Paramount and Downey on Tuesday, Nov. 21st the Tuesday before Thanksgiving! We really miss her and have been checking the shelters at least once a week. Any information will help, thank you!! I can be reached at (562)883-1298