Lexus adopted in December 2006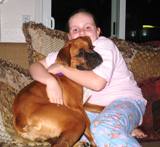 She has settled in very well and is another member of the family! Her ribs are starting to disappear as she puts on weight. I look forward to our morning walks and I know she likes them too. She won't eat or potty until we've gone – too cute. As you can see by the pictures, the kids love her and she loves them. I bought her a bed, but she prefers sleeping with them or us (we leave it up to her) in the big beds. And getting the kids up in the morning is now a piece of cake. I just tell Lexi to "go get your kids" and she zips up the stairs to wake them up. We have a lot less crying in the morning now and it's nice. After school, everyone plays with Lexi. Last Friday, they played so hard with her that she actually got in her bed at 8:00 and shot me a look that said, "I love you, but I'm done for the day," and went right to sleep. She is a sweet, smart, loving Boxer.
We couldn't have chosen a better boxer to join our family. Thanks for your help! ~Susan
Zoey adopted in November 2006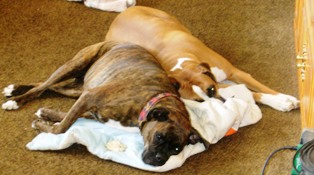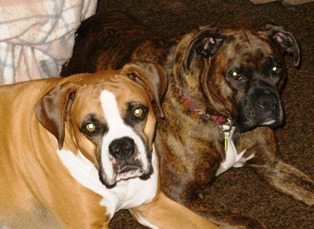 As you can see Louie and Zoey are getting along great. They share their food, toys, blanket and dog bones, but each wants their own attention which they get plenty of.
Mikey (now Harley) Adopted November 2006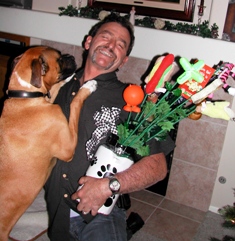 Harley was spoiled at Christmas! look at all those toys!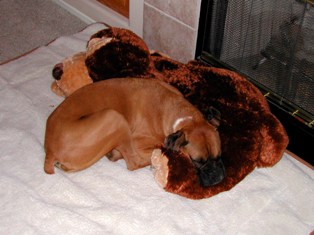 Thank you so much for bringing us together. Mikey got home and checked every nook and cranny in the house - he even looked under the bed. He then toured the back yard. Afterwards he was ready to settle in and snuggle.
Craig took him for a nice walk before bed; he did really good. I got him two dog beds and a cuddly blanket. He even found a stuffed toy someone gave us when our other dog passed away. He dragged it out to his blanket to snuggle. I put his new bed next to ours and I climbed into bed. He then jumped right into bed with us. He slept between us and was content as could be. It was such fun to wake up in the morning to wonderful snuggles.
We are so in love with Mikey and we feel so blessed. Our home is now complete.
Thank you - he is such a joy!
Craig and Lynn

Roxy Baby Adopted October 2006

ROXY'S BEEN WITH US ONE MONTH OCT 5TH I THINK, BUT ACTUALLY, SHE'S BEEN OURS FROM THE SECOND OF HER BIRTH. IT'S JUST TAKEN THE 3 OF US TIME TO FIND ONE ANOTHER. AT THIS MOMENT, SHE'S "RUNNING" THROUGH THE HOUSE WITH HER SQUEEKY FROG. SHE'S GONE THROUGH 2 JOLLY BALLS, AND HAS 1 SQUEEKY MOUSE, HALOWEEN BAT, SQUIRREL, AND HALLOWEEN PUMKPIN. ALL OF THEM SHE PLAYS WITH DAILY, AND SQUEEKS CONTINUALLY. CHUCK AND I HAVE FINALLY GOTTEN SMART, AND AT NIGHT WHEN SHE GOES TO SLEEP FOR THE NIGHT, WE PUT ALL TOYS AWAY. CHUCK THINKS SHE HAS THE WRONG NAME, HE THINKS HER NAME SHOULD BE "JOY"--BECAUSE THAT'S WHAT SHE IS .....SHE'S HAPPY TO SEE THE MORNINGS, THE AFTERNOONS, AND THE EVENINGS. BOY, DOES SHE LOVE HER LEASH AND GOING OUT IN THE EVENINGS FOR A WALK. SHE CARRIES HER LEASH WITH HER DURING THE DAY EVEN. A COUPLE WEEKS AGO, WE ENDED UP TAKING OUR 7 YEAR OLD GOLDEN BACK WITH US AFTER HE HAD KNEE SURGERY FOR THE RECOVERY PROCESS. WITH OUR DAUGHTER AND HER FAMILY IN ARIZON, MAX NEEDED TO BE CLOSE TO HIS VET IN CORONA FOR RE-CHECK-UPS. CHUCK AND I WONDERED HOW ROXY WOULD HANDLE THIS CHANGE, HOWEVER, NO PROBLEM. THEY GET ALONG GREAT. SHE'S GOOD FOR MAX, AND MAX IS GOOD FOR ROXY. AS I KNOW SHE MISSES HER BROTHERS AND SISTERS. THEY SLEEP ON TOP OF ONE ANOTHER DURING THE DAY. NOW IT'S CLOSE TO THE TIME WHEN MAX WILL BE GOING BACK TO AZ. THE VET SAYS HE'S HEALED AND READY TO GO BACK TO HIS FAMILY. ROXY'S HAS CHUCK AND I WELL TRAINED BY NOW. SHE GETS CHUCK UP AT ABOUT 0600, THEY HAVE COFFEE AND SPEND TIME TOGETHER AND THEN ON MY DAYS OFF, SHE LETS ME SLEEP UNTIL 0700(HOW DOES SHE KNOW THE EXACT TIME?) AND THEN COMES AND GETS ME UP. FROM THEN ON, CHUCK, MAX AND I GIVE HER ROOM TO RUN, JUMP, TWIST, LUNGE, PLAY CATCH, AND GENERALLY JUST WEAR HERSELF OUT. AT THE END OF EACH DAY WE ALL SIGHT RELIEF WHEN SHE GOES TO SLEEP. AND THAT IS RIGHT IN THE MIDDLE OF OUR BED! MAX IS ON THE FLOOR BY CHUCK AND ROXY IS IN THE MIDDLE OF US, SNUG AS A BUG IN A RUG! SHE GETTING USE TO THE VACCUM. IT STILL FREAKS HER OUT, AND SHE GOES 90 MILES AN HOUR THROUGH THE HOUSE WHEN IT'S ON. I JUST LOVE HER LITTLE BOXER FACE, AND THAT BOXER PRETZEL THAT SHE DOES. SHE'S CAPTURED OUR HEARTS COMPLETELY. WE'RE GETTING READY TO PULL UP OUR CARPET AND PUT IN LAMINATE FLOORING, AND WHILE CHUCKS BEEN DOWN ON HIS KNEES, SHE'S HOPPING OVER HIM, RUNNING UNDER HIM, AND DROPPING HER TOYS BY HIS SIDE SO THAT HE'LL PLAY WITH HER....... HE SHOULD GET LOTS ACCOMPLISHED, RIGHT?SMILE....... RIGHT NOW, CHUCK IS GETTING READY FOR THE PRESEASON LAKER GAME, AND ROXY IS GETTING READY TOO BY LYING ON THE SOFA RIGHT NEXT TO HIM. WE REALLY DON'T REMEMBER NOT HAVING HER. SHE'S THE LOVE OF OUR LIFE, AND ALSO OUR JOY. WE KNOW THAT YOU BOTH ARE VERY BUSY WITH ALL THE OTHER BOXER'S. WISH YOU WERE CLOSER, SO THAT YOU COULD SEE HER BLOSSOM. MED'S GOING WELL, AND ALSO HER BOOSTER. FOUND A GOOD VET CLOSE TO US. EVERY ONCE IN AWHILE, SHE GETS SO-O EXCITED THAT SHE SPITS THE MEDS OUT, BUT WE CATCH IT, AND PUT THEM BACK INTO HER MOUTH.....SHE'S A PISTOL, AND SOMETIMES, JUST CAN'T THE TIME OUT OF HER VERY BUSY PLAY SCHEDULE TO TAKE HER MEDS. SHE GIVES ME THE LOOK, "DO I HAVE TO TAKE THEM NOW MOM????????????" WE DO LOVE HER SO....... NOW SHE'S IN HERE WITH ME AT THE COMPUTER, BECAUSE SHE HEARS THE KEYS CLICKING AWAY. SHE'S LICKING ME, AND TELLING ME TO SEND YOU AND MIKE ALL HER LOVE,SMILE..... MORE LATER. LOVE, CHUCK AND JUDY
Grandma Adopted September 2006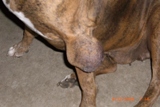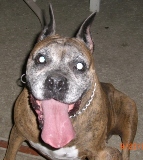 I'm emailing a few pics of a senior boxer "Grandma" she is aprox 10 yrs old and was about to go to be euthanized while I was standing there talking to a staff member at the shelter. So I asked her to give me some time to make a couple of calls....and I received a call back from an angel by the name of Teresa who has "Modjeska Ranch Rescue". Teresa offered to foster "Grandma" for the rest of her life and to donate the funds for her surgery to remove the LARGE tumor. The surgery will be preformed this week at the vets office where Teresa works
Boston Adopted September 2006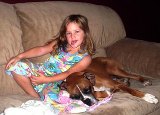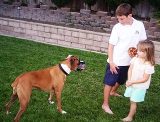 The kids love Boston and he loves them too! We all love him. Thank you so much for letting us adopt him! We are so thankful! Staci :)
Dugan Adopted June 2006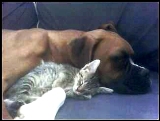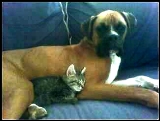 I took these pictures of Dugan with one of the kittens...They weren't suppose to be up on the couch but they looked so cute.He's doing great.
Dutchess Adopted August 2006
*Picture coming soon*
Dutchess has just moved in and become a member of the family. She is such a great dog. We all love her so much. Everyone who has visited, just thinks she is amazing. She is very happy, loving, loyal, and a great addition to our family. I can't thank my sister enough for seeing her on TV that morning and acting so quickly on our/her behalf. Thanks again for the great job you are doing. We will keep you posted with updates on her life here with us. :) Julie
Aly (was Precious) Adopted July 15th, 2006
**pictures coming soon**
Just thought that I would drop you a note to let you know that things are going really well with Precious!! We are calling her Aly as there was already a dog in the neighborhood named Precious. Aly has been very mellow most of the time, and has really enjoyed playing outside. Things have actually been going so well, I keep waiting for the "other shoe to drop", which hasn't so far. She has seen the cats, but hasn't tried to eat them, and they haven't tried to claw her, so I consider that successful. We will betaking her to dog obedience class at Sunday. ~Cheryl
Cadie Adopted March 2006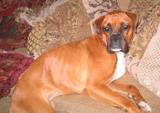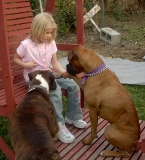 While living with her third owner in Alabama, Cadie was bitten on the chest by a Brown Recluse Spider. The spider bite became infected she almost died. The owner surrendered her to the Agoura Hills Shelter where she stayed for about a month before being rescued by BOCAR. She was underweight and ready to find a family that loved her. She is now living in Orange County with her fur brother Joe Boxer. They get along great!! They even get to travel to the river with their mom and dad in the motor home. Cadie is truely happy and loves spending time with her new family!