If you have a Boxer friend that is no longer with us and would like to dedicate a memorial please email us at boxerrescueoc@verizon.net
In Memory of Daisy Mae - 10/26/2007
In Memory of Honey 10/20/1996 - 9/29/2007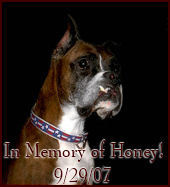 Honey, You came into our lives on BoxerTalk almost 3 yrs ago and you touched us all with your adorable pictures and the things your mommy told us about you. Each and everyone of us felt as if we knew you personally and some of us did. You put your paw prints on our hearts and we are forever grateful to you for that. Thank you for being who you were, for the laughs and for the love you gave your mommy and daddy. You were very special to them and you will be deeply missed by us all!
You were a special girl and your mommy and daddy will forever hold you in their hearts. Rest peacefully baby girl, we know you are still here in spirit and that every time the wind blows, the sun shines or a flower blooms it's a little bit of you saying "I'm ok and I'm waiting for you"
A donation to this rescue has been made in your name to help other Boxers learn how wonderful life can be.
Love, your friends at BoxerTalk.org
In Memory of Jazz 11/22/1997 - 6/26/2007
Jazz was my first boxer. I had Jazz since she was 3 weeks old. Jazzs' mom wasn't able to nurse her pups, so I was lucky enough to experience bottle feeding Jazz. I know having bottle fed her; we bonded quickly and very intimately. I felt from that moment our bond was unbreakable. I loved having her in my life and couldn't imagine how I survived without her before.
She did have her mischievous moments as a pup. She tore off all the buttons to the cushions on my brand new sofa and decided the cushion stuffing needed to come out. When I came home it looked like it had snowed in my family room and at the time I lived in Arizona! Another lesson Jazz taught me was when she ate my music cassette tape and got the tape entwined in her intestines. Luckily, she survived and bounced back ready to play!! I asked the vet, now did Jazz finally learn to stop eating things in the house? My vet replied, "No, have you learned!!, that is what she is waiting for! She taught me so much about being a responsible dog owner which included kindness, tolerance, patience, and forgiveness. Maybe that is why they say people with dogs live longer.
Jazz was so typical of the breed she loved people; if we went to dog parks or beaches she would go say hello to the humans before she would greet other dogs.
Jazz was a sweet dog and people that met her would always say, she's so sweet and it would make us both smile! I could and did take her with me almost everywhere and I never worried about her misbehaving. It is because of her; I fell in love with the boxer breed and eventually adopted 2 others. Jazz did such a great job welcoming and training Scooby and then recently Zelda into our home. She was their pack leader and they respected her wisdom. I couldn't believe how mothering she was to them. Her sweetness was so comforting to all of us.
Unfortunately a few years ago she was diagnosed with mast cell tumors, but luckily they were all surfaced tumors and we were able to have them removed fairly easily. It's a strange cancer because unless it strikes an organ the dogs behave normally; Jazz still wanted to run and play. But then last August we learned she had lymphoma. We decided to treat Jazz with Chemotherapy. She was a trooper! After the treatments she would be sick for a few hours and then bounce back we were ecstatic!! As our vet said Jazz is a fighter! And she fought for 11 months. As much as she tried to beat cancer, her sweet body could not bear the last treatment and she became very ill for days. When Victor and I looked at her suffering our hearts broke and we felt she was done fighting and needed to rest.
She was in our life for 9 ½ years and I cherish each moment we have spent together, now more than ever! I wish she was still here to enjoy her favorite spots around the house, our car rides; going to work with Victor, I miss her intelligence, her strong ability to understand human emotion, and her sweetness!!!!
We miss her terribly and our hearts are broken!
Rest in peace "Jazzie Girls," your spirit and memories will always be with us
In Memory of Bonnie 1994-2007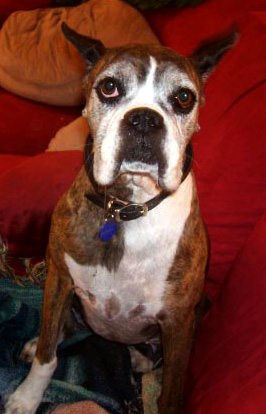 YOU CAME INTO OUR LIVES FOR JUST ONE DAY, BUT MADE US RELIZE HOW SPECIAL ONE GIFT FROM GOD WOULD CHANGE OUR LIVES FOREVER!
MY SON'S AND I DECIDED TO GET INVOVED IN THE BOXER RESCUE IN JANUARY 2007. WE DI D NOT KNOW WHAT TO EXPECT, BUT ONLY KNEW WE WANTED TO DO WHAT WE COULD TO HELP THIS WONDERFUL BREED. PRIOR TO THE BOXER BRUNCH WE ALWAYS HAD BEEN LOOKING AT THE ADOPTABLE DOGS AND ONE DAY CAME UPON THIS OLDER BOXER NAMED "BONNIE". WHEN I FIRST SAW HER I COULD NOT STOP THINKING ABOUT HELPING HER FIND A FOREVER HOME. WE DI D NOT KNOW BONNIE'S PAST LIFE, BUT COULD ONLY IMAGINE SHE BROUGHT WARMTH AND HAPPINESS TO HER FAMILY.
IT WAS A FEW DAYS BEFORE BOXER BRUNCH, WE FOUND OUT WHICH DOG WE WERE GOING TO BE HOSTING. WHEN WE FOUND OUT IT WAS BONNIE, I KNEW IT WAS GOD SENT AND THINGS HAPPEN FOR A REASON. WE WERE ABLE TO SPEND ALL DAY WITH BONNIE. BONNIE WAS THE SWEETEST, SPUNKY, CARING BOXER. WITHOUT KNOWING MY FAMILY SHE GAVE US SO MUCH LOVE WITHOUT HESITATION AND MADE US RELIZE WHAT SPECIAL MOMENTS YOU CAN CHERISH FORVER. AFTER THE EVENT IT TIME TO SAY GOODBYE FOR THE DAY.. BONNIE LEFT TO RETURN TO HER FOSTER FAMILY AND NOT ONE DAY WENT BY WITHOUT US THINKING OF HER.
A WEEK LATER WE FOUND OUT BONNIE HAD PASSED..
I KNOW IN MY HEART BONNIE WAS BROUGHT INTO OUR LIVES FOR A REASON AND EVEN IF IT WAS JUST FOR ONE DAY SHE HAS BROUGHT SO MUCH HAPPINESS AND LOVE TO MY FAMILY.
THANK YOU BONNIE FOR MAKING OUR DAY SO SPECIAL. YOU WILL FOREVER BE IN OUR HEARTS AND SOULS FOREVER.
REST IN PEACE SPECIAL GIRL.
~STEPHANIE
In Memory of Mona 1994-2006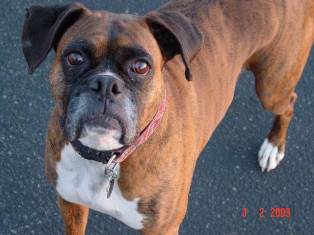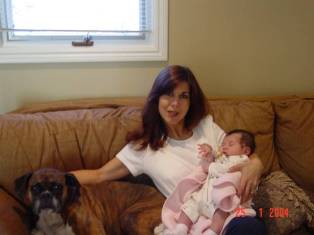 We brought Mona home from a boxer rescue in 1996. She had been neglected and slept outside her first 2 yrs before she was dumped at the shelter. We were told that she was available and my wife went to San Bernardino to pick her up and bring her to her new home and family. As soon as we saw her, we knew she was an angel! She was a little nervous at first because not only had she never slept inside, but she also had 3 beds to choose from in the house. It took only a short while for her to gain our trust and from that point on it was one terrific life for all of us. She became our "daughter" and guardian for the next 8 years. We decided to have a human daughter but were not sure how our current daughter would react.
Our daughter was born in December 2004 to the delight of Mona. It was a match made in heaven. Mona immediately became the "guardian" of our daughter and would not let anyone come near her if we were not in the room. Over the next 2 yrs they were best friends. They would play in the house together, in the yard together and would walk together (well, one was in a jogger carriage). Every morning, our daughter would wake up and ask for Mona. Her face would light up the minute Mona would come and greet her in the morning!
Mona was approaching her 12th birthday and was in perfect health. We were getting concerned because boxers are known to cry in silence and the average life expectancy for boxers is 10 – 12 yrs. Yet she showed no signs of aging!!!! On March 1st, Mona's stomach twisted on her and she was rushed to the vet for an emergency surgery. The surgery was successful, however it was revealed that she had a tumor near her heart and that due to her age, surgery was not an option. We brought her home and gave her as much comfort and love as we could. The doctor advised that when Mona would no longer eat or drink, it was a sign that there was major discomfort and pain. On March 26th, 2006 Mona woke us up in the middle of the night and tried to snuggle as close as possible to us. She just looked at us with loving eyes and gave us kisses.
We stayed with her the rest of the night and when it came time for her to eat, she was not interested….She only wanted to be with us. We took her out for one final walk as the sun came up as a family. Mona went to Boxer heaven a few hours later. She gave us her undying love and affection and she will never be forgotten.
Jeff and Linda Kidwiler
By the edge of a woods, at the foot of a hill,
Is a lush, green meadow where time stands still.
Where the friends of man and woman do run,
When their time on earth is over and done.
For here, between this world and the next,
Is a place where each beloved creature finds rest.
On this golden land, they wait and they play,
Till the Rainbow Bridge they cross over one day.
No more do they suffer, in pain or in sadness,
For here they are whole, their lives filled with gladness.
Their limbs are restored, their health renewed,
Their bodies have healed, with strength renewed.
They romp through the grass, without even a care,
Until one day they start, to sniff at the air.
All ears prick forward, eyes dart front and back,
Then all of a sudden, one breaks from the pack.
For just at that instant, their eyes have met;
Together again, both person and pet.
So they run to each other, these friends from long past,
The time of their parting is over at last.
The sadness they felt while they were apart,
Has turned into joy once more in each heart.
They embrace with a love that will last forever,
And then, side-by-side, they cross over… together.
May you find a happy after life filled with joy, dog toys, dog friends, pleanty of food and love! ~Your friends at BOCAR