ADOPTABLE BOXERS updated 12/02/2007
Age Categories: Baby:-1, Youth:1-2, Adult:3-6, Senior: 7+
I am a light-hearted lively girl ready to have fun! I am a true people person, the type that will greet everyone in the room before doing anything else. I like to frolic and play with my friends and I do like some dogs...if a dog is on my good side they are my BEST friend. I would love a family to join that will play with me & go running/walking for fun. Nothing beats being petted and loved on, I would really appreciate a good rub down now and then! Hugs & Kisses! ~ Mimi
Female Fawn Boxer with Tail
Adult
Kids ~ age 8+
Dogs ~ some
Cats ~ no
*I am currently being boarded & looking for a FOSTER home!!
Meet Cooper! He's a tall, dark, & handsome, lover boy who is looking for a place to call home. Cooper is a good boy who ended up in rescue because he was misunderstood in the past, but with the right placement Copper will be a great companion! He is a smart, athletic boy who listens well and loves to run. In addition to being silly & playful, Cooper also has a slightly sly side... he likes to figure stuff out (like how to open his kennel) so he would probably enjoy treat dispensing or puzzle toys to keep him busy.
Children make Cooper nervous. So to be safe he will only be placed in a family with all adults. Additionally Cooper needs to be an only dog. He doesn't have a problem passing other dogs on a walk or in a park but he does not want to share his home or his guardian with other animals.
So if you're a single person or an adult only family looking to open your heart to a sweet boy with soulful eyes please consider adopting Cooper. He will undoubtedly be an attentive, loyal, and loving friend.
Male Brindle Boxer
Youth
Kids ~ no
Dogs ~ no
Cats ~ no
Am I a handsome Boxer or what?! An angel from the rescue saw me at the shelter; I was in pretty bad shape back then but I gave her my big beautiful Boxer 'save me' look and it worked! I cleaned up really nice after a few weeks of love and who knew how handsome I could be!! My foster home has dogs and I love playing with them!!! I am friendly and socialable - a great companion for the park or maybe cafe. I am on a special diet so that my tummy doesn't get upset but it comes from the store like any other dog food (warning: no people food for me) I am still under 1 year old and will need my new family to take me to training so I can learn all about doggy etiquette, but one lucky family is going to get a gorgeous, friendly, loyal & loveble companion for life!! Hope that family is you - I am waiting for you to take me home this holiday season so we can start our lives together!
White Male Boxer
Baby
Kids ~ Yes age 8+
Dogs ~ Yes
Cats ~ no
Female Fawn Boxer
Youth
Kids ~ over 8 years old
Dogs ~ Yes
Cats ~ yes
Hi, I'm Stella. I'm six years old and loving it. There are lots of things that I enjoy. Like a run in the park or playing with my friends. I love being around others, whether it's a day in the sun or watching a movie with my family. I am extremely cuddly and very well behaved. I listen to my commands and try my hardest to contain myself when I get really excited. I could be an only child or I'd love to have a sibling. I hope there is a family out there who would love to have me as an addition; I promise I'll put lots of love, loyalty and joy in your lives. Please come meet me, I know I'd love to meet you too.
Female Brindle Boxer
Adult
Kids ~yes
Dogs ~ yes
Cats ~ unknown
Kriss is a compact little dude with a big heart who enjoys good company and good food! He is a joyful, exuberant, boy who shows no signs of slowing down any time soon. Kriss really appreciates having a dog bed of his very own and after a long walk he will curl up on it and nap contently for hours.
Unfortunately Kriss has had some bad luck and has had lived in multiple homes. This is due to no fault of his own. He is as sweet as they come and just wants to find a forever home to retire to. Won't you please consider giving this loving, mature boy a home so he can finally have the happy ending that he so richly deserves?
Male Fawn Boxer
Adult
Kids ~ older
Dogs ~ no
Cats ~ no

My name is Shasta and I live with my foster dad in his condo. I know most of the boys and girls at the Rescue just love walks and such but that's kind of a new thing for me. I walk great on a leash but, in my opinion, walks are for taking care of business if you know what I mean. There are strange things out there. I have met lots of new dogs and most of them like me and I like most of them. Their mommies are very nice too. Some of them have dads like I have but I like the moms better. My dad has lots of friends come visit so I spend lots of time protecting him from all these folks who think they can just waltz in the door. I have to bark and such to let them know that I'm protecting him. Dad says they're okay but I reserve the right to judge for myself. Besides protecting dad, I love playing with my toys (dad says I throw well for a girl) and relaxing on my pillow by dad when I get tired. Dad doesn't know it but I lounge the day away on his bed when he goes to work. He says I can't stay forever since there are other boxers that need help so; I'm waiting for my new family to find me. Dad said they might even have kids, how cool would that be? If you're them, get hold of the Rescue, they know where to find me.
Female Fawn Boxer
Adult
Kids ~ yes
Dogs ~ most
Cats ~ unknown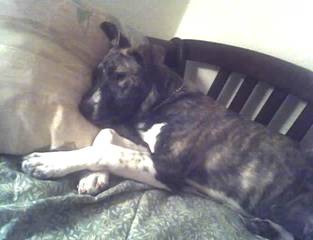 Hello, my name is Boots. I am a one-year-old female Shepherd/Boxer mix with a great love for life. I'm house broken, very lovable and smart. I love to play and snuggle and go for long walks. Just let me lick your face, and we can be best friends
My mommy can't keep me because she lost her job and her home. I also haven't been fixed yet because my mommy can't afford it. I had been hiding out at my Grandmother's home in a senior community but had to leave so that my Grandma doesn't get in big trouble. So, now I am staying at a kennel in Fullerton until I find my new family. I just need someone to love me like my mommy does. She's very sad to give me away and just wants someone to love me like she does.
Female Boxer/Shepard Mix
Youth
Kids ~ 8yrs+
Dogs ~ yes
Cats ~ unknown
I am looking for someone very specific to be my friend for life. If you are a single person with no pets or kids in the house I could be the dog of your dreams! I will be you cuddle buddy, feet warming, loyal friend for life! I will let you know if there are boogie men around the house or anything suspicious & you can sleep confident at night that you are protected and loved by your very own Maggie Pie! If you fit the type of person I am looking for please ask to meet me!
Female Fawn Boxer
Adult
Kids ~ no
Dogs ~ no
Cats ~ no
WHY IS 2 BETTER THAN 1?
Already own a Boxer?? Here's why 2 is better than 1: Two is better than one. We always thought it would be twice the trouble to have two dogs but it's actually easier than just having one. They eat at the same time. They go out at the same time. They sleep at the same time and they play at the same time. When you have to be gone you don't have to feel guilty about leaving them alone because they love being together. If you're too tired to play with them, they'll play with each other. They are easy to walk but do need leash training, mainly due to their excitement of being out. Two cuties are so easy to live with and so loving that you will wonder why you didn't think to get two dogs in the first place.