Parker's New Cart - Thanks Boxer OC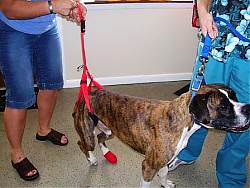 BoxerTalk was born January11, 2004. It was formed by a group of Boxer lovers who needed a family friendly place to talk about their Boxers, get advice, share stories, pictures and get to know one another. We had several members who's Boxers were Rescue Boxers and so began our knowledge as a community of just how many Boxers were in Rescue. Not only did we start to notice the countless numbers of Boxers in rescue but we noticed that the Boxers were living in foster homes. The people that foster these Boxers and run the rescues do this all on their own, it is completely volunteer! They get some money through donations and discounts at the vet sometimes but most of the time they are in need. We decided as a group that we wanted to help, we felt compelled to do something. We knew we couldn't rescue them all but we could at least help those who did. That is when we started holding fundraisers to raise money for the rescue. Since we started we have raised several hundred dollars and helped a few Boxers get rescued because of our efforts. We started showcasing a new rescue Boxer every week called our "Boxer Spotlight" we created a section of our forum were posts are made with lists of things certain rescues are in need of.

Recently we posted about a Boxer in Kentucky that needed a wheelchair, the rescue he was in was taking up donations, BoxerTalk donated $50.00 that post caught the attention of Brenda from Boxer OC Animal Rescue California
who DONATED the wheelchair! Thank You!
Bella Rae (was Fancy) adopted May 2007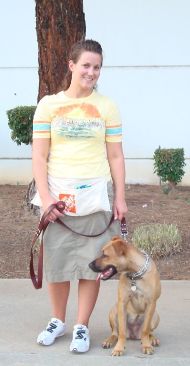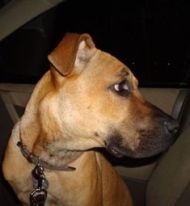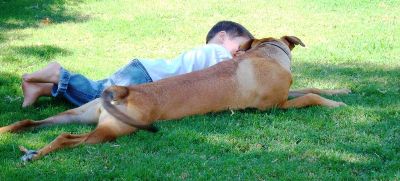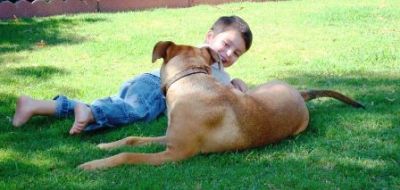 Bella Rae has become such a huge part of our family. Now 8 months old, she has just completed and graduated from Basic Obedience with the amazing training abilities offered from Mary-Lou and Caroline at K-9 Sirius Training. She has come such a long way since that first training class! I have several young cousins who come over often and she loves them as much as they love her. Although she still has her puppy moments, Bella Rae continues to blend her way as part of our family. I am so happy I was able to use BOCAR to my advantage and find such a wonderful puppy. Thank you again!! ~Sarah
Leila adopted August 2007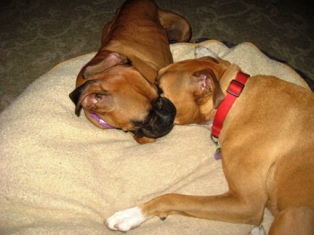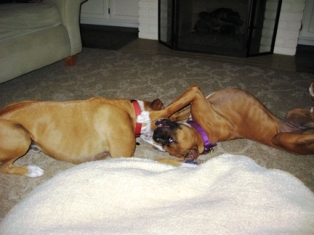 Leila and Jake are getting along really well and we are so happy to have her. Leila is also very nice with the kids, most of the time she could care less that they are around!
Sadie (was Daffny) Adopted May 2007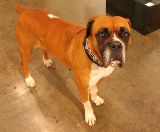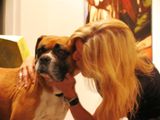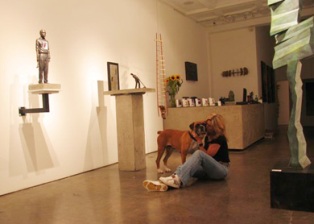 Sadie is extremely loved and we couldn't be happier to have her in our family. She spends time with me in the gallery when I go in for a few hours, she likes the visitors and the extra attention! She is the best!! I am so happy to have her, it seems as though she has been with me for all her life now. She loves her regular runs in the morning in an open field (still on leash next to me) she makes it intervals of runs, jogs, and walks under shady trees. She brings a lot of love and happiness into my life! Thank you for rescuing her and bringing
her into my life!
All the best, Diane

Trucker (was Spanky Jake) Adopted June 2007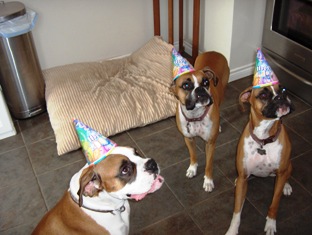 Here are some pictures from Trucker's (formerly Spanky Jake) adoption party! As you can see he is happy and healthy (his leg is almost 100% healed)! He now spends his days lounging on the sofa eating treats from the doggie bakery and doing his best to ignore his new pesky boxer siblings (he's much too sophisticated to join in on their wacky antics). We feel so blessed to have him as part of our family and just wan to thank BOCAR for giving Trucker a second chance! This is one Boxer that will never see the inside of an animal shelter again!
Piper Adopted May 2007
Piper is doing great! They just love each other.
Dakota Adopted 2006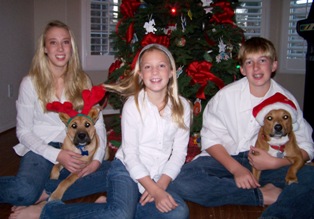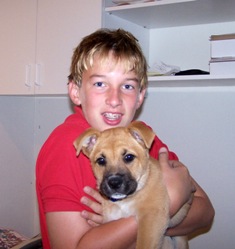 I wanted to let you know how much we love Dakota and how well he fits into our family. Our other dog Daisy is so happy with him, so thank you again.
Thanks, Cheron
Liela & Brando Adopted January 2007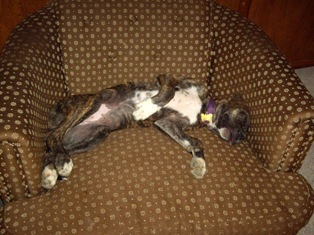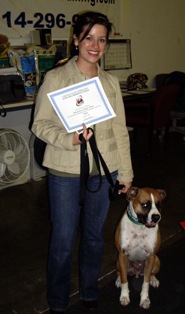 We are pleased to tell you that Leila and Brando are both doing very well. They are a joy to be around and they can't stand being separated. Brando has become less anxious when we leave him and so that is a relief. Leila is growing slowly and she just lost her first baby tooth. She is also trying to take over Brando's couch that he sleeps on. Both of them love being outside in the sun and doing laps around the grass. Leila is getting the hang of potty training and walking on a leash. It helps that Brando has had basic obedience training because we can concentrate on working with Leila and she picks up on what he does. We can't thank you enough, along with OC Boxer Rescue for all that you have done to bring these beautiful creatures into our lives and home. We look forward to seeing everyone at the next Boxer event.
Kona Adopted March 2007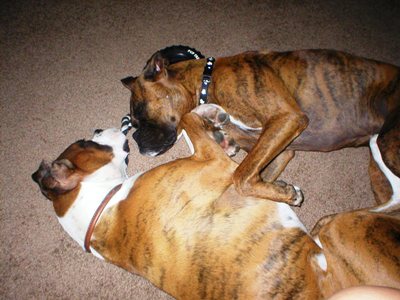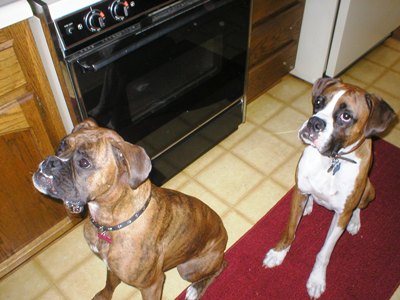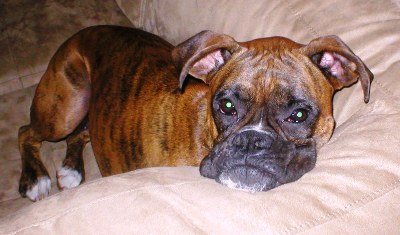 We could not have asked for a better addition to our family. From the moment she met her brother Fuego we knew she was the one.Fuego and Kona spend their days playing, sunbathing, and relaxing in style. They have taken over our couches and the bed is a war zone at night. Chances are, Kona might win and get her own bed! We don't mind, she is the most loving girl. Whenever mommy comes home from work, she is always by the door trying to lick her to death. Actually, she does that to a lot of people. Kona has been so great to her little brother. Ever since she came to the house, she has helped him heal. He is eating better and is finally happy. When we installed a doggie door, she taught him how to use it! Fuego was so scared, but Kona was very patient and tried to coax him with a toy. He wouldn't have any of it, but she finally got her way.
Thank you for finding us the most wonderful Boxer!
~Matt, Aimee, Fuego & Kona~
Pixie Adopted April 2007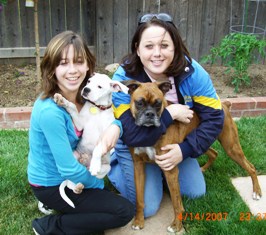 Pixie with her new family!
Daisy Adopted 2006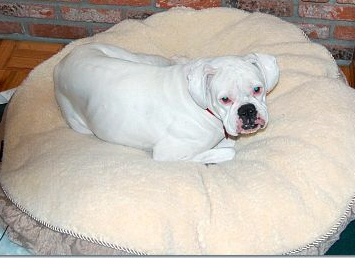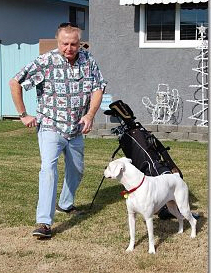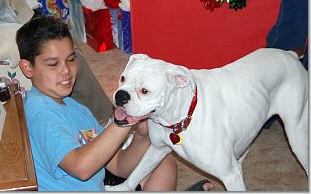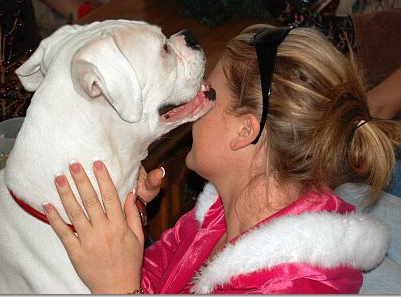 I just wanted to let you know that Daisy is doing so well. I love her more than I could ever imagine. She is the light of our days. She has totally come out of her shell. She sings and dances with us. We've taken her to the beach and to visit many friends. She even has a cousin now, his name is Cash. They love to hang out and play together. She has totally healed and is just so happy. She sleeps with me every night and we are constantly complimented on how well trained she is. Thank you again! Shawnna
Iya Adopted Jan. 2007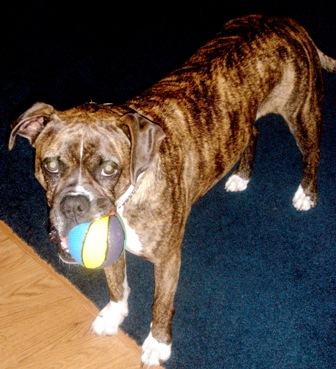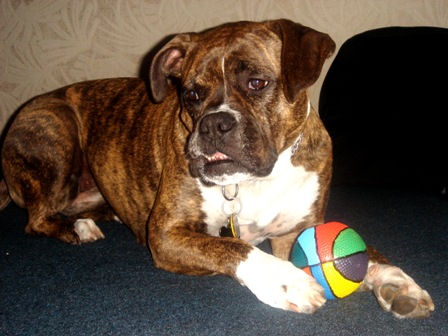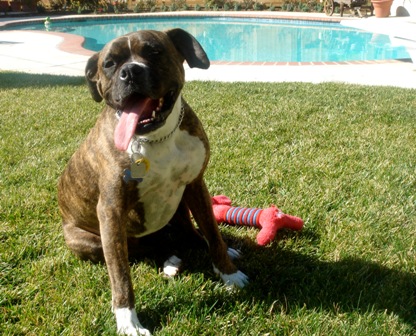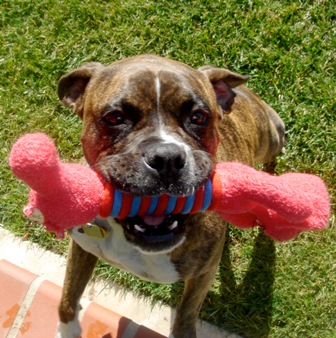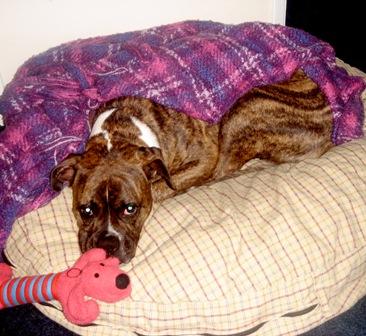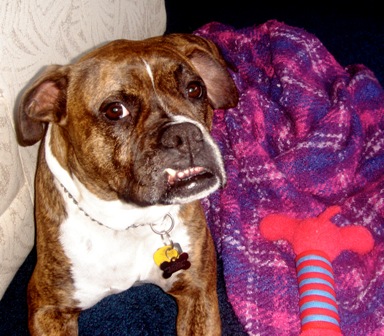 Iya is a wonderful addition to our family. We really could not have asked for a better dog. She is the most loving dog, giving us tender kisses and snuggling with us on a regular basis. She is extremely smart. She is already potty trained, knows how to sit, stay and chase tennis balls, thanks to her original owners. Her favorite toys are tennis balls and squeaky toys. She also is very athletic. We take her on walks in the morning before work, and in the evenings we run with her in our neighborhood. On the weekends Iya goes everywhere with us, from the Corona Del Mar dog park, to grandmas and grandpas and eventually we plan on taking her hiking with us. We are planning on enrolling her in a social activity class with other dogs in the near future. Thank you for bringing Iya into our family, she is truly a blessing. –Linzy & Matt
Missy (now Miss Coco) Adopted Jan. 2007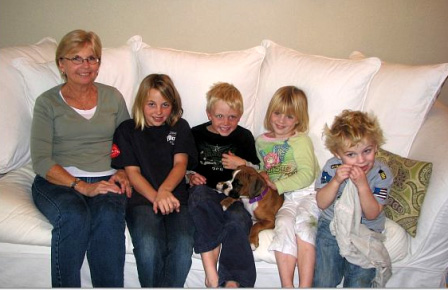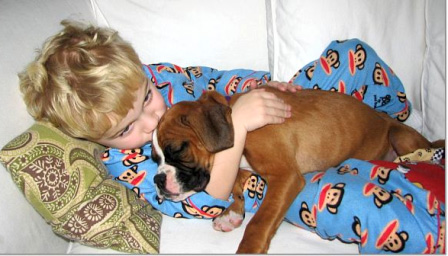 She is an absolute LOVE!! She enjoys sunbathing and cuddling. She sleeps on a dog bed in our room. She has made our house her new HOME and has explored everything but has been a VERY good girl. We have had a few potty accidents but are really trying hard to curtail that issue. She loves to be held and loved up. I hope all is well with you and just wanted to Thank you again for our Puppy.
Heather
Bentley (now Brando) Adopted Jan. 2007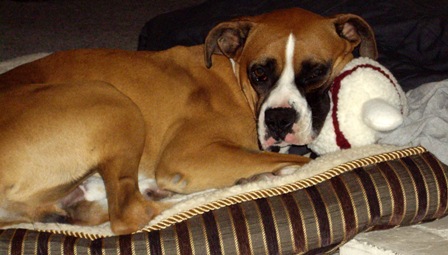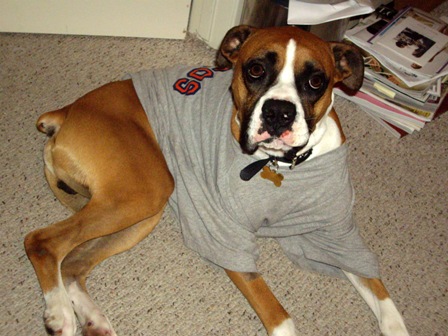 We are pleased to tell you that Brando is doing very well. He is slowly putting on some weight and is getting more used to being around other dogs. A friend of ours has a male Rhodesian Ridgeback and with every meeting they are becoming better friends. Our neighbor has a female Mastiff and I think Brando kind of likes her. Every person he meets falls in love with his kind heart and good looks. All the neighbor kids love seeing him. Jen and I could not be more pleased. We are still working on his separation anxiety but we hope with some basic training and work at home that we can curb it. Thank you again for bringing him into our lives and home. We will keep you posted on how he is doing, enjoy the pictures.
Take Care, Richard, Jennifer and Brando
Brutus (now Bongo) Adopted Jan. 2007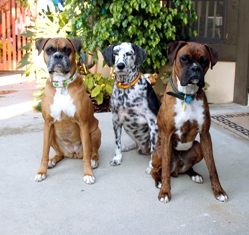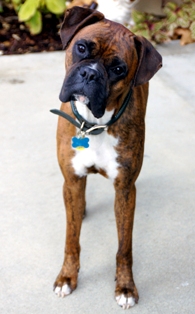 Just wanted to let you know all is going great with Brutus' transition into the pack. We are following the Dog Whisperer's advice about taking the dogs on daily walks together to form the pack mentality and it's really working. Brutus is walking really nice on the leash along with the rest of us. He's super smart. We have had a couple of little snarls but nothing that escalated beyond that and actually today there hasn't been any of that. We are hoping that Brutus will sleep with Fannie tonight on the other bed. He is laying there right now (on his blanket with her) so hoping it works through the night. He has been sleeping with us in our bed along with Fannie although Fannie got up and moved back into her bedroom in the middle of last night. It's a little crowded but we wanted him to sleep wherever he felt comfortable and safe so it was OK. He and Fannie are having lots of fun frolicking but they also calm down and take lots of naps. Rupert was kissing him today and Brutus was kissing him in return with tails wagging. Thanks for choosing us for Brutus. We will take very, very good care of him. I'll send pics occasionally and let you know if I get the fundraiser organized in conjunction with the racquet club reunion. It would most likely be the first Sunday in June.
Take care, Jacqueline